Aims of the Project Erin Catalogue
Based at Queen's University Belfast and co-funded by the Horizon 2020 Framework Programme of the European Union, ERIN, or Europe's Reception of the Irish Melodies & National Airs: Thomas Moore in Europe, is an open access online resource which maps Europe's response to the Irish Melodies, documents the chronological and geographical dissemination of the National Airs and identifies European music editions of the songs, operas and ballets from or based on the poem Lalla Rookh.
This resource contextualises Moore's network of publishers and creative artists, providing the first comprehensive survey of his published works in Europe. The resource includes an online catalogue of European editions of the music for the Irish Melodies, European editions of printed music for the National Airs and music associated with Lalla Rookh. Contributing institutions are identified by their logos at the bottom of this page, and were chosen for either the breadth or uniqueness of their Moore holdings.
All sources catalogued on this website fall within the date range 1808-1880. This encompasses the years in which the Irish Melodies, National Airs and Lalla Rookh were first published, subsequent nineteenth-century re-issues, editions and arrangements. It also reflects the reception of these works during and after Moore's lifetime. The end date of 1880 reflects the decline in popularity of European 'national airs'. ERIN is co-moderated by Dr Sarah McCleave and Dr Tríona O'Hanlon; enquiries may be sent to erin@qub.ac.uk.
Exhibitions
Using the OMEKA platform, ERIN has created four collections and four exhibits. The collections allow the reader to browse items related to: the music for, and illustrations of, Lalla Rookh; the National Airs of Moore and similar European projects; the texts to his Irish Melodies; also the music to Moore's Irish Melodies. The exhibits are an interpretative platform, and parallel the collections in their coverage.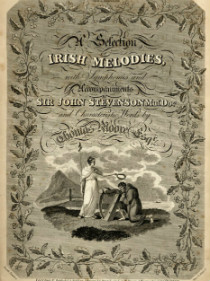 1808-80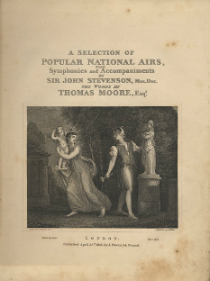 1808-80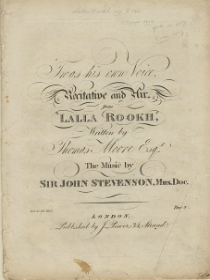 1808-80